In dit artikel
Inhoudsopgave
Artikelen in deze categorie
Anouk Michel chords
Michel is een nummer uit 2000 van de Nederlandse zangeres Anouk. Het nummer staat op het tweede album van Anouk uit 1999. Het is één van de succesvolle nummers van dit album. Het nummer werd in juli 2000 de Alarmschijf op RADIO 538 en stond vervolgens 15 weken in de Nederlandse Top 40. Wil je de gitaarakkoorden ofwel de chords leren om dit nummer te kunnen spelen op je gitaar? Lees dan snel even verder!
Michel van Anouk chords
Hieronder vind je de gitaarakkoorden van Michel van Anouk, ofwel de chords van dit nummer. Deze song wordt gespeeld met negen akkoorden en hieronder vind je naast de chords ook de vingerzetting zodat je de akkoorden nog sneller in de vingers hebt.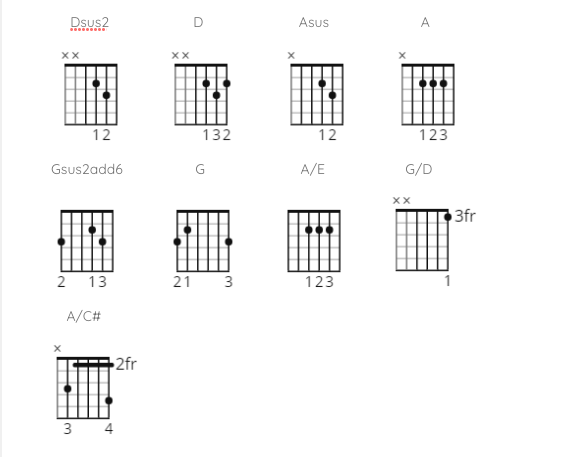 Anouk Michel lyrics tekst
Hierboven heb je de chords geleerd van het nummer Michel. Hieronder vind je de lyrics tekst van Michel van Anouk. Zo kan je niet alleen het nummer spelen, maar ook iemand begeleiden met je gitaar of zelf het nummer helemaal meezingen. Erg leuk tijdens een avondje met vrienden en/ of familie!
[Intro]


 


e|------0---------|


B|3---3-----3-----|


G|--2-----------2-|


D|----------------| x4


A|----------------|


E|----------------|


  1   2   3   4


 


  

Dsus2

            

Asus

             

Gsus2add6




e|------0---------|------0---------|------0-------0-|------0--------|


B|----3-----3-----|----3-----3-----|----3-----3-----|--3-------3----|


G|--2-----------2-|--2-----------2-|--2---------2---|----2-------2--|


D|0---------------|----------------|----------------|---------------| x2 (=2nd part)


A|----------------|0---------------|----------------|---------------|


E|----------------|----------------|3---------------|---------------|


  1   2   3   4    1   2   3   4    1   2   3   4    1   2   3   4


 


[Verse]


 


(keep picking)


D

        

A

                       

G




Hey Michel how's life are you ok


D

         

A

                       

G




I wonder if you ever think of me


D

          

A

                     

G




It's been 9 years since that kiss


          

A




I can't help but reminisce


D

       

A

            

G




Hey Michel do you remember


 


 


[Chorus]


 


(strum chords)


    

D




We walked the street to the beat


A

                      

G




Hand in hand you and me


D




Smiling faces so in love


A

                            

G




Hoping that they all could see


     

A

              

D

              

A

                   

G




That we belonged together you and me against the world


    

A

                  

D

               

A

                 

G




But we found out the hard way cause it wasn't meant to be


 


(pick 

G

 like this)


e|----0-------0---|----0-------0---|


B|------3-------3-|------3-------3-|


G|--0-------0-----|--0-------0-----|


D|----------------|----------------|


A|----------------|----------------|


E|3---------------|----------------|


  1   2   3   4    1   2   3   4


                Now  it's you and her I see


 


 


[Interlude]


 


  

Dsus2

            

Asus

             

Gsus2add6




e|------0---------|------0---------|------0-------0-|------0--------|


B|----3-----3-----|----3-----3-----|----3-----3-----|--3-------3----|


G|--2-----------2-|--2-----------2-|--2---------2---|----2-------2--|


D|0---------------|----------------|----------------|---------------| x2 (=2nd part)


A|----------------|0---------------|----------------|---------------|


E|----------------|----------------|3---------------|---------------|


  1   2   3   4    1   2   3   4    1   2   3   4    1   2   3   4


 


[Verse]


 


(picking)


D

     

A

                

G




You were my first and worst love


D

         

A

               

G




And so it only could go wrong


D

           

A

                

G




But ain't that just the way you learn


         

D

          

A

                    

G




Hey Michel I just wanted to let you know


D

            

A

                   

G




That someone else has stolen my heart


D

        

A

                            

G




And now another girl has caught your eye


D

            

A/E

                     

G/D

  

A/C#

  (the /X are bassnotes, don't mind)


That doesn't mean I don't think of you


D

            

A

                          

G




I am just hoping that she'll treat you right


 


Do you remember


 


 


[Chorus]


 


(strum chords)


    

D




We walked the street to the beat


A

                      

G




Hand in hand you and me


D




Smiling faces so in love


A

                            

G




Hoping that they all could see


     

A

              

D

              

A

                   

G




That we belonged together you and me against the world


    

A

                  

D

               

A

                 

G




But we found out the hard way cause it wasn't meant to be


 


 


[Coda]


 


(picking)


D

 

A

 

G

                      

D

     

A

  

G




       It was just a silly dream


D

     

A

                   

G




lalalaaah laah laah laah laah


D

     

A

                   

G




lalalaaah laah laah laah laah laah


D

     

A

                   

G




lalalaaah laah laah laah laah


        

D

  

A

          

G




Hey Michel, do you remember