In dit artikel
Inhoudsopgave
Artikelen in deze categorie
The Rolling Stones Angie chords
Angie is een nummer van het album 'Goats Head Soup' van de populaire Rockband The Rolling Stones. Het nummer werd wereldwijd uitgebracht in augustus 1973. In Japan werd het nummer in september van dat jaar uitgebracht. Tijdens het einde van 1972 werd het nummer opgenomen en geschreven door voornamelijk Keith Richards. Vanwege een afspraak werd ook Mick Jagger als schrijver van het nummer vermeld.
Angie is in vergelijking met de andere nummers van The Rolling Stones een vrij rustig nummer. Iets wat we niet gewend waren van de Britse Rockband. Ondanks het rustige karakter van Angie schoot het nummer vrijwel direct naar de top van alle hitlijsten wereldwijd. Zo ook binnen de UK Singles Chart van het thuisland van de Stones.
The Rolling Stones Angie chords
Het nummer Angie van The Rolling Stones wordt gespeeld met negen chords. Namelijk de Am, G, C, B, Dm, E, F, Fsus4 en Am7. Hieronder vind je de gitaarakkoorden en de vingerzetting van de chords.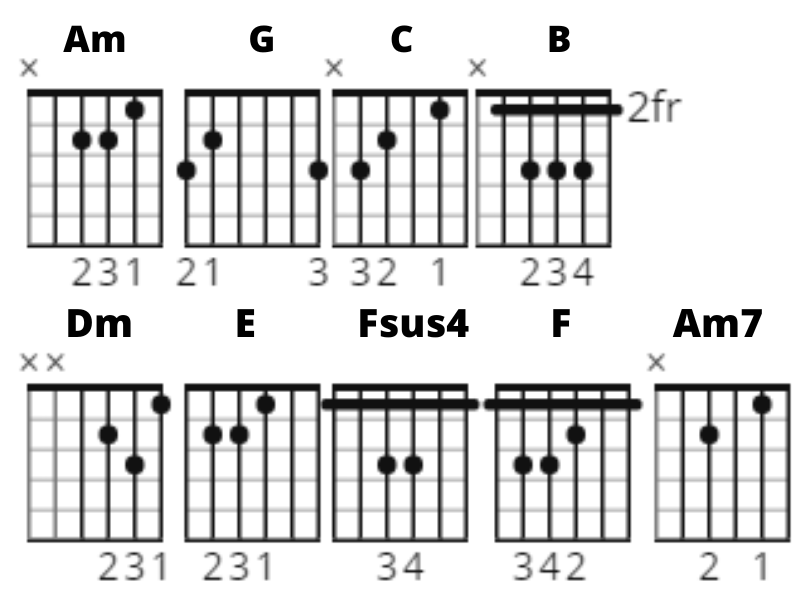 Lyrics voor Angie van The Rolling Stones
Naast het spelen van Angie van The Rolling Stones kan je het nummer natuurlijk ook meezingen. Of misschien speel je liever alleen zonder erbij te zingen? Dan kan je natuurlijk ook iemand anders begeleiden tijdens het zingen. Hieronder vind je de lyrics van dit onwijs populaire nummer uit 1973.
[Intro]


 


Am

    

E

    

G

    

Fsus4

  

F

    

C

    

C

    

B




 


 


[Verse]


 


Am

     

E




Angie, Angie,


G

               

F

                     

C




When will those clouds all disappear?


Am

     

E




Angie, Angie,


G

             

F

                   

C




Where will it lead us from here?


         

G

                          

Dm

            

Am




With no loving in our souls, and no money in our coats


C

         

F

             

G




You can't say we're satisfied


 


    

Am

     

E




But Angie, Angie,


G

          

F

                 

C




you can't say we never tried


Am7

    

Am

    

E




Angie, you're beautiful


     

G

         

F

                     

C




But ain't it time we said goodbye?


Am

             

E




Angie, I still love you,


 


 


  

G

       

F

                        

C




Remember all those nights we cried?


G




All the dreams we held so close


           

Dm

             

Am

   

C




seemed to all go up in smoke


          

F

              

G




Let me whisper in your ear


Am

     

E

       

G




Angie, Angie


                

F

                 

C




Where will it lead us from here?


 


 


[Solo]


 


 


[Chorus]


 


C

                     

G




Oh, Angie, don't you weep,


                   

Dm

                 

Am

       

C




all your kisses still taste sweet


             

F

              

G




I hate that sadness in your eyes


      

Am

  

E




But Angie, Angie,


    

G

       

F

                  

C




ain't it time we said goodbye?


 


 


Am7

    

E

    

G

    

Fsus4

  

F

    

G

   

C




 


 


         

G

                         

Dm

              

Am

      

C




With no loving in our souls and no money in our coats


               

F

          

G




You can't say we're satisfied


    

Dm

                       

Am




But Angie, I still love you, baby


Dm

                           

Am




Everywhere I look I see your eyes


Dm

                              

Am

            

C




There ain't a woman that comes close to you


         

F

              

G




Come on baby, dry your eyes


 


 


[Outro]


 


Am

         

E




But Angie, Angie,


G

        

F

          

C




ain't it good to be alive?


 


Am

     

E

     

G




Angie, Angie,


          

F

             

C




They can't say we never tried