Artikelen in deze categorie
Jason Mraz I'm Yours chords
Het nummer 'I'm Yours' is een single van Jason Mraz. Het is de eerste single van zijn derde album 'We Sing, We Dance, We Steal Things'. In dit artikel vind je niet alleen de chords voor I'm Yours van Jason Mraz, maar ook de vingerzetting, songtekst en meer. Lees je mee?
I'm Yours van Jason Mraz
De song I'm Yours van Jason Mraz kwam oorspronkelijk van de ep 'Extra Credit'. De ep werd beperkt uitgegeven als demo in 2005. Het nummer was bedoeld om het tweede album 'Mr. A-Z' van Mraz te promoten. In februari 2008 kwam 'I'm Yours' de iTunes lijst binnen en werd het nummer beschikbaar om te downloaden en kwam uiteindelijk niet verder dan de dertiende plaats in de tipparade.
 In september 2008 kreeg het nummer echter nog een tweede kans waarbij d song eindigde op een vierde plaats in de Nederlandse Top 40. In andere landen deed het nummer het een stuk beter en eindigde op de eerste plaats van diverse hitlijsten in onder andere Zweden en Noorwegen en kwam in de top 10 in landen zoals Italië, de Verenigde Staten, Oostenrijk en Duitsland. 'I'm Yours' is de grootste hit tot nu toe van Jason Mraz.
Jason Mraz I'm Yours chords guitar
Hieronder vind je de chords voor 'I'm Yours' van Jason Mraz. De gitaarakkoorden hieronder zijn ideaal om het nummer snel in de vingers te krijgen omdat de akkoorden ook de vingerzetting laten zien. Je kunt de chords met of zonder capo spelen. Het nummer I'm Yours wordt gespeeld met zeven akkoorden.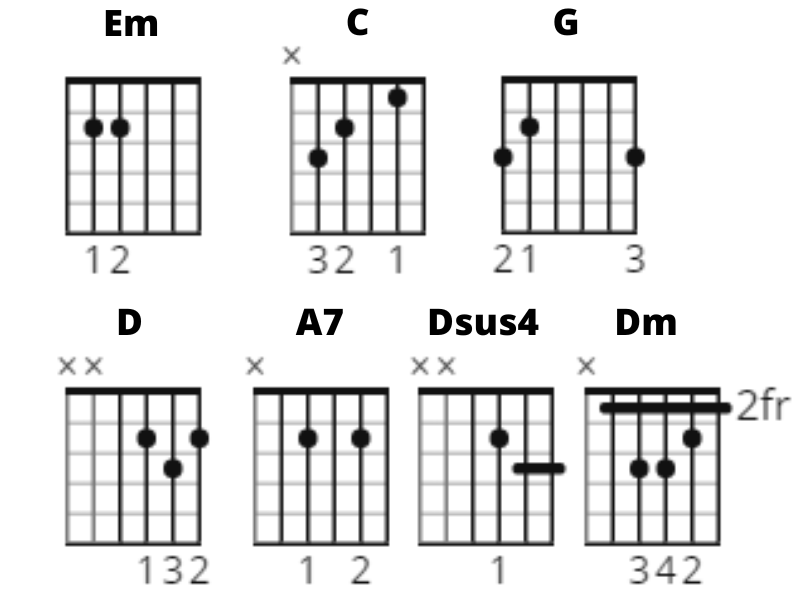 I'm Yours Jason Mraz songtekst met chords
Als je de akkoorden hierboven hebt geleerd kan je aan de slag met de songtekst van I'm Yours van Jason Mraz. Hieronder vind je de songtekst met chords erbij zodat je eenvoudig jezelf of iemand anders kun begeleiden tijdens het zingen.
[Intro]


G

   

D

   

Em

   

C




 


Intro Tab (relative to Capo):


 


e|-3/5-3----------3/5-2---------------------------------------3/5-3----------|


B|-3/5-3----------3/5-3----------3/5-0----------0-0h1---------3/5-3----------|


G|-------------------------------2/4-0----------0-0--------------------------|


D|---------------------------------------------------------------------------|


A|---------------------------------------------------------------------------|


E|---------------------------------------------------------------------------|


 


 


[Verse 1]


      

G




Well, you done done me in; you bet I felt it


  

D




I tried to be chill but you're so hot that I melted


  

Em




I fell right through the cracks


        

C




Now I'm tryin' to get back


 


           

G




Before the cool done run out, I'll be givin' it my bestest


    

D




and nothin's gonna stop me but divine intervention


  

Em




I reckon it's again my turn


   

C




To win some or learn some


 


[Chorus]


    

G

           

D




But I won't hesitate


            

Em




No more, no more


          

C

            

G

   

D

   

Em

   

C




It cannot wait; I'm yours


 


[Verse 2]


G

                                    

D




Well, open up your mind and see like me


                                   

Em




Open up your plans and damn you're free


                                     

C




Look into your heart and you'll find love, love, love, love


 


G

                                               

D

                                

Em




Listen to the music of the moment, people dance and sing, we're just one big family


                                      

C

                           

A7




And it's our God-forsaken right to be loved, loved, loved, loved, loved


 


[Chorus]


   

G

           

D

  

Dsus4




So I won't hesitate


            

Em




No more, no more


          

C




It cannot wait, I'm sure


           

G

             

D




There's no need to complicate


            

Em




Our time is short


            

C




This is our fate, I'm yours


 


[Bridge]


G

                     

D

             

Em




Doo do do doo doo do, doo do doo do doo do


                       

D

               

C




Do you want to come on, scooch on over closer, dear


                       

A7




And I will nibble your ear


 


| 

G

  

Bm

  | 

Em

  

D

  | 

C

     | 

A7

    |


 


[Verse 3]


                   

G




I've been spending way too long checking my tongue in the mirror


    

D




And bending over backwards just to try to see it clearer


    

Em




But my breath fogged up the glass


         

C




And so I drew a new face and I laughed


  

G




I guess what I'll be saying is there ain't no better reason


   

D




To rid yourself of vanities and just go with the seasons


   

Em




It's what we aim to do


    

C




Our name is our virtue


 


[Chorus/Outro]


    

G

           

D

 

Dsus4




But I won't hesitate


            

Em




No more, no more


          

C

            

G




It cannot wait; I'm yours


                                     

D




Well, open up your mind and see like me


             

D

                      

Em




Open up your plans and damn you're free


                                         

C




Look into your heart and you'll find that the sky is yours


   

G




So please don't, please don't, please don't


           

D

        

Dsus4




There's no need to complicate


           

Em




'Cause our time is short


                              

C




This oh, this oh, this is our fate


        

A7




I'm yours