In dit artikel
Inhoudsopgave
Artikelen in deze categorie
Jeff Buckley Hallelujah chords
Misschien komt de naam Jeff Buckley je niet zo bekend in de oren. Maar ik denk zeker wel dat je het nummer Hallelujah wel vaker voorbij hebt horen komen! Het nummer hallelujah van Jeff Buckley is een heel bekend nummer die ook veel wordt gecoverd door opkomende muzikanten en tijdens talentenshows om het muzikale talent aan te tonen van de betreffende muzikant. Hallelujah is namelijk een technisch vrij lastig nummer om te zingen. Maar wel een ontzettend mooi nummer om te zingen en te spelen! 
Chords voor Jeff Buckley's Hallelujah
Wil je graag de chords, oftwel de gitaarakkoorden voor Hallelujah van Jeff Buckley leren spelen? Dan zit je hier goed! In dit artikel gaan we je namelijk de chords leren, daarnaast laten we de vingerzetting zien en ook de tekst om Hallelujah te kunnen zingen komt aan bod. Zit je al op gitaarles? Of leer je jezelf gitaar spelen? Dan kan je ook eens op internet kijken en zoeken op Jeff Buckley hallelujah acoustic guitar lesson of guitar tutorial. 
Hallelujah guitar chords
Hieronder vind je de guitar chords voor Hallelujah, maar ook de vingerzetting en de tekst die bij het nummer hoort. Lees je mee?
Je speelt Jeff Buckley's Hallelujah met slechts vijf akkoorden. Namelijk de C, Am, F, G en de E7.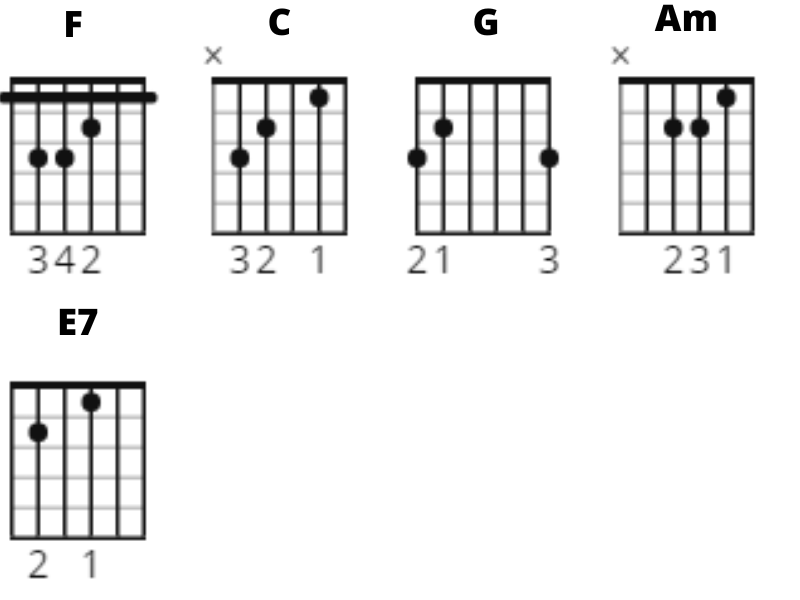 Hieronder de songtekst voor Hallelujah zodat je naast het spelen ook lekker mee kunt zingen of zodat je iemand kunt begeleiden tijdens het zingen!
[Intro]


C

 

Am

 

C

 

Am




 


[Verse 1]


  

C

                 

Am




I heard there was a secret chord


     

C

                   

Am




That David played and it pleased the lord


    

F

                

G

               

C

        

G




But you don't really care for music, do you?


        

C

                  

F

           

G




Well it goes like this the fourth, the fifth


    

Am

                 

F




The minor fall and the major lift


    

G

            

E7

             

Am




The baffled king composing hallelujah


 


[Chorus]


     

F

           

Am

          

F

           

C

    

G

   

C

      

Am

 

C

 

Am




Hallelujah, hallelujah, hallelujah, hallelu-u-u-u-jah ....


 


[Verse 2]


           

C

                        

Am




Well, your faith was strong but you needed proof


    

C

               

Am




You saw her bathing on the roof


    

F

              

G

             

C

            

G




Her beauty and the moonlight overthrew you


    

C

               

F

       

G




She tied you to her kitchen chair


    

Am

                        

F




She broke your throne and she cut your hair


    

G

                  

E7

            

Am




And from your lips she drew the hallelujah


 


[Chorus]


     

F

           

Am

          

F

           

C

    

G

   

C

      

Am

 

C

 

Am




Hallelujah, hallelujah, hallelujah, hallelu-u-u-u-jah ....


 


[Verse 3]


C

               

Am




Baby, I've been here before


     

C

                       

Am




I've seen this room and I've walked this floor


  

F

             

G

             

C

          

G




I used to live alone before I knew you


     

C

                     

F

      

G




I've seen your flag on the marble arch


    

Am

               

F




But love is not a victory march


       

G

               

E7

          

Am




It's a cold and it's a broken hallelujah


 


[Chorus]


     

F

           

Am

          

F

           

C

    

G

   

C

      

Am

 

C

 

Am




Hallelujah, hallelujah, hallelujah, hallelu-u-u-u-jah ....


 


[Verse 4]


            

C

                   

Am




Well, there was a time when you let me know


       

C

            

Am




What's really going on below


    

F

             

G

               

C

        

G




But now you never show that to me do you


      

C

             

F

        

G




But remember when I moved in you


        

Am

            

F




And the holy dove was moving too


    

G

               

E7

            

Am




And every breath we drew was hallelujah


 


[Chorus]


     

F

           

Am

          

F

           

C

    

G

   

C

      

Am

 

C

 

Am




Hallelujah, hallelujah, hallelujah, hallelu-u-u-u-jah ....


 


[Verse 5]


      

C

               

Am




Well, maybe there's a god above


    

C

             

Am




But all I've ever learned from love


    

F

                

G

           

C

          

G




Was how to shoot somebody who outdrew you


     

C

                  

F

       

G




It's not a cry that you hear at night


     

Am

                 

F




It's not somebody who's seen the light


       

G

               

E7

          

Am




It's a cold and it's a broken hallelujah


 


[Outro]


     

F

           

Am

          

F

           

C

    

G

   

C




Hallelujah, hallelujah, hallelujah, hallelu-u-u-u ....


     

F

           

Am

          

F

           

C

    

G

   

C




Hallelujah, hallelujah, hallelujah, hallelu-u-u-u ....


     

F

           

Am

          

F

           

C

    

G

   

C




Hallelujah, hallelujah, hallelujah, hallelu-u-u-u-jah ....


Am

        

F

   

G

     

C




     Halleluuuuuuujah