Artikelen in deze categorie
John Legend All Of Me chords
Speel je veel gitaar of misschien wel piano? Ben je dol op de muziek van John Legend en wil je zijn bekende single All Of Me leren spelen op je gitaar, ander snaarinstrument of op je piano? In dit artikel geven we je wat geschiedenis van dit nummer, we laten je de chords zien met de vingerzetting en ook de songtekst met bijbehorende akkoorden komt voorbij. Lees en leer je mee?
All Of Me van John Legend
De single All Of Me is te horen op het vierde studioalbum van John Legend genaamd Love in the Future. Het nummer kwam uit in 2013 en is de tweede single van het album die Legend uitbracht. De mix van Tiësto genaamd de Tiësto Birthday Treatment Mix won in 2015 een award voor de Beste Remix.
John Legend All Of Me chords
Het nummer All Of Me van John Legend wordt gespeeld met zes akkoorden, namelijk de Em, C, G, D, Am en C/D. Hieronder vind je de gitaar akkoorden met de vingerzetting. Zo kan je eenvoudig de chords voor All Of Me leren en eigen maken.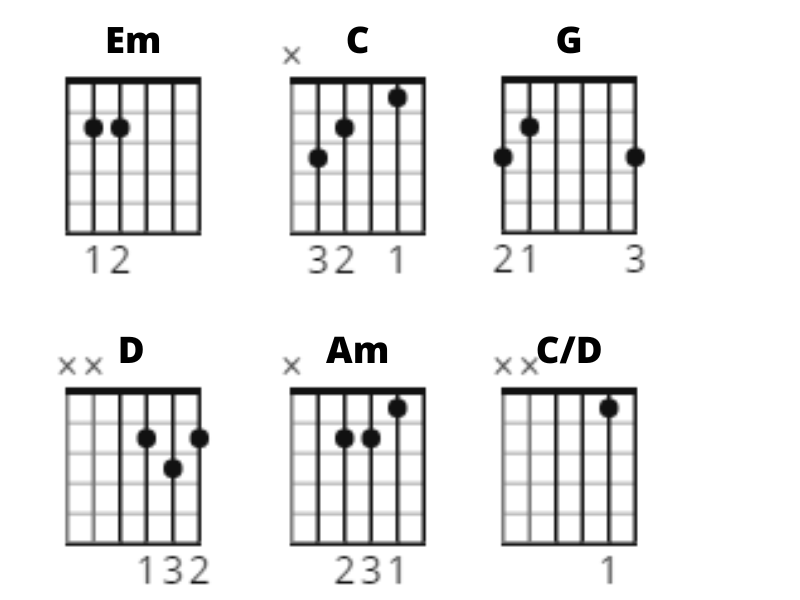 Tekst All Of Me John Legend
Nadat je de chords hierboven hebt geleerd kan je aan de slag met de tekst van All Of Me van John Legend. Wil je jezelf begeleiden of iemand anders? Dan ook is dit overzichtje erg handig want naast de songtekst staan ook de akkoorden in het onderstaande schema.
[Intro]


Em

   

C

   

G

   

D

   x2


 


[Verse]


Em

           

C

                       

G




What would I do without your smart mouth


            

D

                     

Em




Drawing me in, and you kicking me out


          

C

            

G

             

D

            

Em




Got my head spinning, no kidding, I can't pin you down


             

C

                     

G




What's going on in that beautiful mind


               

D

             

Em




I'm on your magical mystery ride


         

C

              

G

                       

D

        

Am




And I'm so dizzy, don't know what hit me, but I'll be alright


 


[Pre-chorus]


   

Am

            

G




My head's under water


    

D

              

Am




But I'm breathing fine


 

Am

              

G

              

D




You're crazy and I'm out of my mind


 


[Chorus]


       

G




Cause all of me


       

Em




Loves all of you


            

Am




Love your curves and all your edges


         

C/D

        

D




All your perfect imperfections


           

G




Give your all to me


             

Em




I'll give my all to you


          

Am




You're my end and my beginning


     

C/D

             

D




Even when I lose I'm winning


                  

Em

   

C

      

G

   

D




Cause I give you all, all of me


                 

Em

   

C

      

G

    

D




And you give me all, all of you, oh


 


[Verse]


Em

        

C

                       

G




How many times do I have to tell you


                  

D

                      

Em




Even when you're crying you're beautiful too


              

C

           

G

          

D

                  

Em




The world is beating you down, I'm around through every mood


             

C

                

G




You're my downfall, you're my muse


             

D

                        

Em


My worst distraction, my rhythm and blues
                

C

             

G

        

D

            

Am




I can't stop singing, it's ringing, in my head for you


 


[Pre-chorus]


   

Am

            

G




My head's under water


    

D

              

Am




But I'm breathing fine


 

Am

              

G

              

D




You're crazy and I'm out of my mind


 


[Chorus]


       

G




Cause all of me


       

Em




Loves all of you


            

Am




Love your curves and all your edges


          

C/D

       

D




All your perfect imperfections


           

G




Give your all to me


             

Em




I'll give my all to you


          

Am




You're my end and my beginning


     

C/D

             

D




Even when I lose I'm winning


                  

Em

   

C

      

G

   

D




Cause I give you all, all of me


                 

Em

   

C

      

G

    

D




And you give me all, all of you, oh


 


[Bridge]


                

Am




Give me all of you, oh


Am

            

G




Cards on the table


       

D

            

Am




We're both showing hearts


Am

          

G

                

D




Risking it all, though it's hard


 


[Chorus]


       

G




Cause all of me


       

Em




Loves all of you


            

Am




Love your curves and all your edges


         

C/D

        

D




All your perfect imperfections


           

G




Give your all to me


             

Em




I'll give my all to you


          

Am




You're my end and my beginning


     

C/D

             

D




Even when I lose I'm winning


                  

Em

   

C

      

G

   

D




Cause I give you all, all of me


                 

Em

   

C

      

G

    

D




And you give me all, all of you


                 

Em

   

C

      

G

    

D




Cause I give you all, all of me


                 

Em

   

C

      

G

    

D




And you give me all, all of you, oh
Hier kunnen wij je ook bij helpen
Naast de vele voorbeelden van nummers met akkoorden kun je bij ons ook terecht voor: