In dit artikel
Inhoudsopgave
Artikelen in deze categorie
The Common Linnets Calm after the storm chords
Calm after the storm van de Common Linnets werd uitgebracht in 2014 en is afkomstig van het album The Common Linnets. Het lied van Ilse de Lange en Waylon is in eerste instantie bekend geworden door de deelname van het duo aan het Eurovisie Songfestival in 2014, waar zij de tweede plaats behaalden met het nummer.
Het nummer won op het festival ook twee Marcel Bezençon Awards. Een van de redenen waarom Calm after the storm zo populair werd, was vanwege zijn unieke mix van country en pop. Het nummer was een frisse adem in de Nederlandse muziekwereld en bracht het genre naar een breder publiek. Na het succes op het Eurovisie Songfestival werd het lied ook in andere landen bekend en werd het een hit in Europa.
Het succes van The Common Linnets zette Ilse de Lange en Waylon niet alleen nationaal, maar ook internationaal op de kaart als getalenteerde artiesten.
The Common Linnets Calm after the storm chords
Calm after the storm van The Common Linnets wordt gespeeld met slechts drie akkoorden, namelijk de G, C en Em chords. Hieronder vind je de gitaarakkoorden en hun vingerzetting.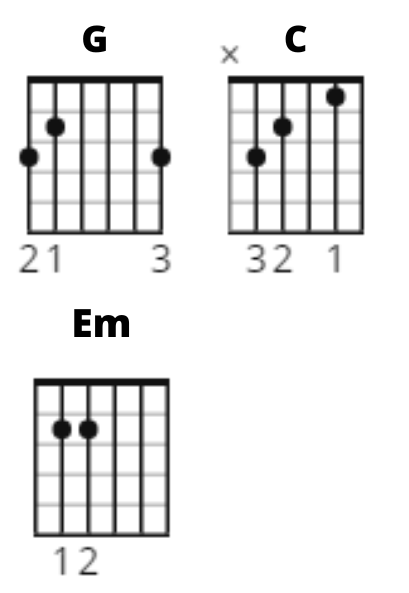 Lyrics van Calm after the storm
Wanneer je de gitaarakkoorden hierboven in de vingers hebt wil je misschien ook wel het liedje kunnen zingen tijdens het spelen. Of je kan natuurlijk ook iemand begeleiden tijdens het zingen. Hoe dan ook, hieronder vind je de songtekst van Calm after the storm met daarbij de chords vermeld. Zo heb je enkel één blaadje nodig om het nummer te spelen en zingen.
[Intro]


 


G




 


 


[Verse]


 


G




Driving in a fast lane


         

Em




Counting mile marker signs


C




The empty seat beside me


G




Keeps you on my mind


G




Living in a heartache


          

Em




Was never something I pursued


C




I can't keep on chasing


G




What I can be for you


 


 


[Chorus]


 


G

                         

Em




Ooooh skies are black and blue


           

C




Thinking about you


           

G




Here in the calm after the storm


 


 


[Verse]


 


G




Tears on a highway


Em




Water in my eyes


    

C




This rain ain't gonna change us


     

G




So what's the use to cry


G




I can say I'm sorry


    

Em




But I don't wanna lie


      

C




I just wanna know if staying


    

G




Is better than goodbye


 


 


[Chorus]


 


G

                         

Em




Ooooh skies are black and blue


           

C




Thinking about you


           

G




Here in the calm after the storm


G

                      

Em




Ooooh after all that we've been through


               

C




There ain't nothin' new


           

G




Here in the calm after the storm


 


 


[Solo]


 


G

 

Em

 

C

 

G




 


 


[Bridge]


 


G




Maybe I can find you


Em




Down this broken line


C




Maybe you can find me


G




I guess we'll know in time


 


 


[Chorus]


 


G

                         

Em




Ooooh skies are black and blue


           

C




Thinking about you


           

G




Here in the calm after the storm


                

C




There ain't nothin new


           

G




Here in the calm after the storm